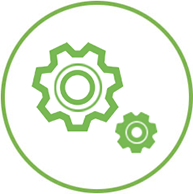 Virtualization Consulting
Today, the need to virtualize is a certainty, but by the time of implementing it, it is important how to get it done. Our success model covers all phases of definition and suppliers selection, capacity planning, architecture and design, execution and final delivery, to guarantee maximum benefits of the virtualization of your business.
Virtualization Evaluation
An effective virtualization achievement starts with a thorough evaluation of the infrastructure. Our service helps to make a whole virtualization solution, through the identification of the server gaps, storage and network infrastructure, in order to reduce unnecessary virtualization costs, at the same time that allows improving the setting
security profile.
Virtualization Architecture
Our services create the roadmap to guide our Customer through a successful implementation of a virtualization solution. We eliminate redesign costs that consume time and money, by making an initial analysis of your servers, your network and your storage settings, as well as of the related configuration devices.
Virtualization Implementation
We advise our Customer to reduce complexity and implementation time of new virtualization initiatives. Our qualified specialists will help you to plan, implement, configure and test your virtualization designs, through Huenei's proprietary methodology, which guarantees a service of quality, secure and orderly.
Optimization
In order to optimize your virtualization settings, it is possible to choose to update the last virtualization software version or to plan the expansion of your current virtual setting, to improve even more the IT infrastructure and capabilities. Our service evaluates the state of your virtualized setting and offers practical recommendations to optimize and adjust the setting, making it more efficient and stable.
Optimization of the investment return, through effective virtualization design and
implementation.
High availability of IT strategic resources to concentrate on the business core.
Improves security, stability, availability, operative effectiveness and scalability.