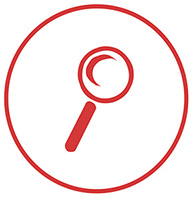 Testing Consulting
Our testing consulting services help you to evaluate and optimize your testing
processes, making them more dynamic and effective.
Profiles
We make a selection of those professionals who are more suitable to develop testing thoroughly, among which we can make mention of: testers, tests analysts, test leaders, specialists and advisors in application tests.
Service Alternatives
We handle the hiring process either of one professional with the required profile, or the service of setting up a complete applications testing team, and help our Customers in the development of this practice.
Quality Assurance
Our processes for the supply of professionals are part of our systems of quality management, ISO 9001:2008 certified, which guarantees the quality of our services.
Immediate availability of specialists in face of peaks of demand, without increasing headcount.
Suitable personnel in different areas of the testing process allow putting up the quality of the work of your testing team.
Immediate access to and implementation of testing practices, without increasing fixed costs.