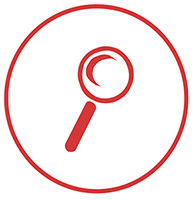 Testing Outsourcing
Huenei's outsourcing services allow keeping focus on the development activities and leaving in the hands of professionals of expertise all testing processes, thus assuring the quality and reducing costs in projects of different scales.
Managed Testing Services
We carry out the management of testing projects, taking full responsibility of all the stages of the testing process: from the strategy design, planning, implementation, up to the validation and final report. We use proven methodologies that adapt to the demands of projects of different size and complexity.
Quality Assurance
Our software testing process are part of our quality management system, certified under ISO 9001: 2008 standards. They are aligned with the ISO / IEC 90003: 2004 Software Engineering standard and the CMMI-DEV Level 2 and Level 3 process areas, established by the Software Engineering Institute (SEI) of Carnegie Mellon University.
Rightshore Testing
We design the outsourcing strategy that is ideal for each Customer, combining onsite, offshore and nearshore modules, according to the needs and characteristics of the project. In order to maximize results and reduce costs, it is performed a thorough analysis of all factors related to the testing process, such as tools, technologies, methodologies and involved work team.
Delegating tasks to professionals of expertise allows keeping domestic resources focused on everyday duties.
Guarantee of professionals specialized in testing, which allows the right validation of the product.
In the medium-term an improved economy of costs and a better product quality adds to everyday practices.