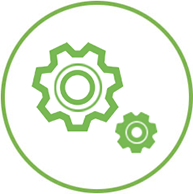 Server & Storage Services
The convergence of the internet technologies, virtualization and large scale data centers has created a new and powerful way of providing services and of managing information. WE work along with the companies to get on the cloud, which will allow working with a high level of automation, scaling easily and reducing their IT costs significantly.
Administration of Servers and Networks
We take over the installation, updating and the general administration of the servers and network services, as well as the generation and implementation of backup and security policies, making sure to our Customers that they will have a reliable network and their services will remain available all the time. We commit to the immediate resolution of incidents, through 24×7 remote
support services.
Secure and Flexible Storage
In order to stay in the vanguard of the expansion of servers and unnecessary costs, it is paramount to have a clear understanding of the business and not only of technology. At Huenei, we help our Customers to count out with an effective storage, thus extending quality as a synonym of reliability, output, availability, safety and flexibility. The certainty of having a technological partner who is committed with the business allows our Customers to ensure the operative continuity of their business in case of incidents and to focus in more productive activities for their company.
Advice on Network Structure
The fast evolution of the technologies in a highly competitive context demands companies to resort to tools of latest generation in order to optimize processes, to reduce time and take advantage of high volumes of data. At Huenei, we ́make available for you advisors of expertise that will advise you on the design, building and maintenance of your network infrastructure, with the commitment of analyzing the technological alternatives that best fit your needs and expectations, offering a better price-quality relationship.
Enhancement of the security, stability, availability, operative effectiveness and scalability.
Optimization of the infrastructure investment and reduction of support costs.
Assurance of the operative continuity in face of incidents.