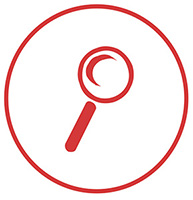 Non-Functional Testing
Services of non functional testing allow ensuring the quality of the application in terms of attributes that cross it, and they consist in ensuring aspects such as: behavior at the load, volume, performance, availability, security and usage capacity, among others.
Non-Functional Testing
The care of non-functional aspects in the development process ensure that the application performs its working properly, covering aspects such as performance, usability, or loading large volumes of information.
Quality Assurance
Our software testing process are part of our quality management system, certified under ISO 9001: 2008 standards. They are aligned with the ISO / IEC 90003: 2004 Software Engineering standard and the CMMI-DEV Level 2 and Level 3 process areas, established by the Software Engineering Institute (SEI) of Carnegie Mellon University.
Testing Alternatives
Performance Testing
Performance testing confirms that the specified objectives have been reached, in terms of response time and concurrence of the software product, in circumstances of regular use.
Load and Stress Testing
It allows finding and resolving problems that generate due to scarcity of resources (memory, disk capacity), as well as of shared resources (system, data base blocks, band width, among others).

Testing de Volumen Volume Testing

By means of the volume testing, the software undergoes heavy data workflows to check that it works properly when reaching the limits for which it was conceived.

Usage Capacity Revision
Through it, the simplicity for the user to understand, learn, surf and use the software is tested.

Projects Alternatives
We carry out on-hand key testing projects, taking full responsibility. For those cases where the service demand is continual and time-based, we set up testing teams under the time & material mode, managed through dynamic methodologies.
Greater effectiveness of the product result by complying with the non-functional requirements such as performance, usage capacity, load, or those the project might require.
Tests carried out by professionals of expertise in testing that guarantee optimum results.
Maintenance costs reduction, improved delivery times and greater investment returns, due to the higher quality of the products.