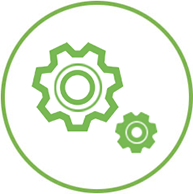 IT Infrastructure Staffing
The administration of the technological infrastructure often requires of different work teams that generate synergy and maximize results. Huenei relies on its availability of specialists in the development of infrastructure, who are qualified and in permanent training, to carry out their duties on site, becoming part of the regular work teams of our Customers.
Profiles and Technologies
We select the most suitable professionals to perform the diversity of tasks proper of an infrastructure are, among which are worth to be mentioned: Operators, network administrators, infrastructure leaders, technicians and specialists. We count out with professionals with expertise in: CISCO, IBM, Microsoft, Oracle, Apache, Vmware; among other technologies.
Service Alternatives
We manage the hiring process on a professional with the required profile or the service to set up a whole work team; we work with our Customer in the development of this practice.
Quality Assurance
Our processes for the supply of professionals are part of our systems of quality management, ISO 9001:2008 certified, which guarantees the quality of our services.
Immediate availability of specialists in face of peaks of demand, without increasing headcount.
Optimization of the IT budget, in scenarios of disassigment of own resources.
Immediate access to innovative practices and technologies, thus reducing the learning curve, in time and costs.