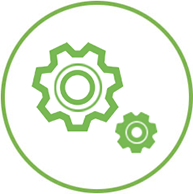 IT Infrastructure Outsourcing
In the current digital context, IT management must respond with speed, innovation and efficiency. Huenei's outsourcing services makes it possible to our Customers to rely on experts their IT infrastructure and turn their operative costs into investment; reducing costs and boosting the business growth.
Managed Infrastructure Service
We advise our Customer to create and manage a more profitable, secure and flexible infrastructure, which allows scalating at the business rhythm. We count out with the knowledge and experience of our consulting team, to evaluate your IT setting and perform the management of an IT successful model that has the necessary automation processes, and with platforms and technologies more adequate to get the best results with the lowest costs.
Rightshore IT Infrastructure
We design the ideal outsourcing strategy for each Customer, combining fully Third-party operated services, with on-site platforms and technologies, according to the business inherent characteristics. Aiming at maximizing results and reducing costs, a thorough analysis of the infrastructure is made, and we work with you in the most adequate implementation.
Third-party operation of your processes of IT infrastructure in the hands of technology experts, committed to your business.
Planning and analysis made by experts, with a whole and objective view, which adds value and allows keeping the focus of your professionals on the business.
Constant access to new and diverse technologies, without the need of increasing owned structure or costs.