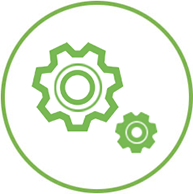 IT Infrastructure
We provide our clients with infrastructure services that guarantee security and performance in their IT investment.
We design, administer and manage the IT infrastructure of our Customers, assuring the operative continuity of their business.
We provide advice on the enhancement of the current infrastructure and on the
implementation of new technologies.
We rely on a team of specialists certified in the technologies of the industry.
Project & Services
– Server & Storage Services
– Database Administration
– Application Management Services
Consulting
– Cloud Computing Consulting
– Virtualization Consulting
Professional Services
– Software Development Staffing
Outsourcing
– IT Infrastructure Outsourcing
Administration and Support
Servers administration and first level support for the facilities of this important economic group, throughout Argentina.
Outsourcing IT
Market research company infrastructure management outsourcing, for their offices in Argentina, Chile, Peru and Mexico.
Outsourcing IT
Outsourcing of infrastructure management and customer technology , for their offices in Argentina.
Administration and Support
Administration services of servers and support, covering aspects of networking, monitoring and computer security.