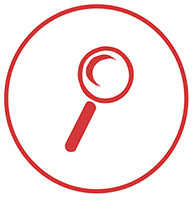 Functional Testing
Our functional testing services allow checking whether the developed software
satisfies the functional requirements defined at the start of the product development.
Testing Alternatives
Unitary Testing
Unitary testing tests the smaller units
of an application.
Integration Testing
It is useful to visualize whether and how a new unit integrates properly to an existing previously tested one.

System Testing
It aims at verifying that the system complies with the specification of
functional requirements.

Regression Testing
Regression testing checks out that changes made during the maintenance process or the development of a new version do not have an adverse effect on other ones, already tested.

Support to the Acceptance Testing
The testing team role is to define a test sequence that is in line with the acceptance criterion, and to design or select the test cases that will be executed.
Functional Testing
We work along with the Customer during the whole software life cycle in order to validate, at every phase that the application complies with the business objectives, to ensure its quality and perfect operation.
Projects Alternatives
We carry out on-hand key testing projects, taking full responsibility. For those cases where the service demand is continual and time-based, we set up testing teams under the time & material mode, managed through dynamic methodologies.
Quality Assurance
Our software testing process are part of our quality management system, certified under ISO 9001: 2008 standards. They are aligned with the ISO / IEC 90003: 2004 Software Engineering standard and the CMMI-DEV Level 2 and Level 3 process areas, established by the Software Engineering Institute (SEI) of Carnegie Mellon University.
Guarantee that all functional requirements satisfy the needs of the user.
High quality standards of products are achieved, since tests are performed by professionals who are expert in specialized testings.
Maintenance costs reduction, better delivery time and greater investment returns, due to the achievement of products of a higher quality.