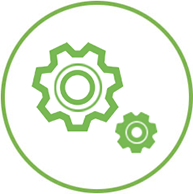 Database Administration
Information is one of the most important assets for organizations and a substantial factor, in their business strategy to make key decisions, improve operative efficiency and Customer Service. At Huenei, we offer quality solutions to manage our Customers data bases putting together company information and business goals.
Data Bases Design and Implementation
We design, install and manage data bases of different platforms and cutting-edge technologies, both in physical and virtual servers. In order to speed up our Customers' processes and to reduce costs, Huenei counts out with professionals of vast experience that will be in charge of boosting the automation and protecting the information of the whole company.
Data Bases Security
The only way to be ready in face of unexpected events is to manage proactively the administration of data bases. At Huenei, we guarantee the security of your information, through the making and maintenance of policies and processes, as well as the implementation of strategies of backups and recoveries, which will allow the company to work in a stable environment, ensuring its operative continuity.
Changes and Growth Plan
In growth contexts, it is fundamental to carry out a planning that allows identifying and anticipation the demand of the IT setting, as the addition of capacity, memory and storage, among others. We provide consultancy to make more accurate decisions about hardware requirements and the choice of data bases licenses, in view of the configuration and implementation parameters, within the most convenient budget for the Customer.
Service Level Agreements
We work with agreements on the level of services, which are accordingly reached with our Customers, in order to ensure a service that is in accordance to their expectation, and measurable periodically. Within the SLA parameters, the indicators that must be fulfilled with are established, defining a specific level of service quality.
Enhancement in the performance of applications with different data bases, which minimizes costs and maximizes results.
Guaranteed operative continuity in bface of incidents, preventing attacks and ensuring data recovery.
Ensured information availability for final users, which impacts in the level of service quality.