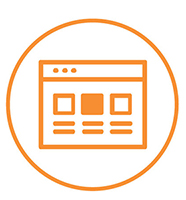 Applications Modernization
In an organization, applications, databases and systems coexist that run the risk of becoming obsolescent, either due to lack of maintenance, scalability or loss of performance. Through our services of modernization of applications it is possible to preserve the essence of its applications and at the same time to improve its attributes, thanks to the use of new technologies.
Applications Modernization Roadmap
The modernization solutions can cover from a setting or platform change, up to the full redefinition of the functional requirements, their redesign, development and implementation. In order to be successful, and reduce related risks, our consultants make a meticulous planning of the modernization projects to be undertaken, which are designed to get the applications aligned with the business strategies and technology in the light of the future.
Applications Migrations and Reengineering
The growth of volume and complexity of your business increases the need to gain access to the key information at the proper time. Through our processes of migration and reengineering, we ensure the continuity of the solutions and functions of your inherited applications, which will be replaced along the different stages of the migration or reengineering projects, as it may fit.
Projects Alternatives
We perform on-hand key modernization solutions projects, taking full responsibility. For those cases where the service demand is continual and time-based, we set up development teams under the time & material mode, managed through dynamic methodologies.
Quality Assurance
Our software maintenance processes are part of our quality management system, certified under ISO 9001: 2008 standards. They are aligned with the ISO / IEC 90003: 2004 Software Engineering standard and the CMMI-DEV Level 2 and Level 3 process areas, established by the Software Engineering Institute (SEI) of Carnegie Mellon University.
Use of the latest available technologies to boost functionalities already in place.
Enhancement of availability, usage possibilities and performance of applications.
A greater flexibility, scaling up and distribution of components.