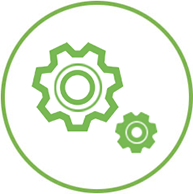 Application Management Services
Companies that manage great volumes of data need a system of applications and
infrastructure managed strategically, which goes beyond the back office technical function. Huenei helps you to optimize your IT operations through one single point of critical interactions to supervise the management of your company solutions.
Applications Maintenance
Business operations cannot be at risk due to problems in the IT infrastructure. At Huenei we make a proactive management of the applications maintenance, in order to ensure the operative continuity of your systems and infrastructure with the agreed levels of service.
Continuous Transformation
The challenge faced by an efficient management of an IT department consists in staying one step ahead of the processes of business change. Our teams of professionals specialized in Application Management Services (AMS) will work with you in the transition process of inherited systems, towards a model of strategic management of technological solutions that is on a par with the business needs.
Personalized Support of Applications
We provide tailored support plans to make sure that the critical applications of your business are available and can respond in time and shape to the users' needs. We make a constant monitoring of the levels of services (SLA), as well as the reporting, follow up and immediate resolution of incidents, with professionals available 24×7 en the whole Latin America region.
Service Level Agreements
We work with agreements on the level of services, which are accordingly reached with our Customers, in order to ensure a service that is in accordance to their expectation, and measurable periodically. Within the SLA parameters, the indicators that must be fulfilled with are established, defining a specific level of service
quality.
Maximum performance of your operative systems (OS) and applications, which minimizes costs and maximizes results.
Strategic alignment of the applications portfolio with the business goals.
Ensured operative continuity, with high level of service quality.