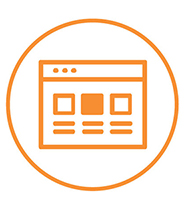 At Huenei, we assume the control and the responsibility of your applications through our services of proactive maintenance, and establishing agreements of levels of service that will allow you to administer your own human resources and assign them to strategic areas or projects within your company.
Continuous Improvement
We provide the necessary maintenance services, in such a way that they guarantee the follow up of the evolution and the correction of your systems, bearing in mind the criterion of continuous improvement of the software utilized for the evolution of your business.
Service Level Agreements (SLA)
We work with agreements on the level of services, which are accordingly reached with our Customers, in order to ensure aservice that is in accordance to their expectation, and measurable periodically. In the SLA parameters, the indicators that should be complied with are set forth, thus defining the specific level of quality of the service.
Maintenance Alternatives
Corrective: Corrective maintenance takes care of the defects that originate an undesired behavior in the applications. These problems can be related to processing, stability, performance, programming or security, among other main reasons.

Evolving: Evolving maintenance is a constant feature in the life cycle of applications within the current context, since it contemplates the incorporation or modification of functionalities, in order to cover changes and demands of the user needs.

Adaptive: Adaptive maintenance carries out the modifications to be made due to changes in the settings where the applications work, for example: Hardware configuration or base software, communications, data base,
among others.

Perfective: Perfective maintenance aims at improving the internal quality of the applications in terms of performance optimization and code enhancement.
Quality Assurance
Our software maintenance processes are part of our quality management system, certified under ISO 9001: 2008 standards. They are aligned with the ISO / IEC 90003: 2004 Software Engineering standard and the CMMI-DEV Level 2 and Level 3 process areas, established by the Software Engineering Institute (SEI) of Carnegie Mellon University.
Permanent updating in face of the quick evolution of the technological domain.
Reduction of costs and response time in the resolution of incidents.
Proactive management on optimization and continuous improvement of the applications.