Our Numbers
Founded in 1995 is a regional IT service provider.
At present, it counts on over 250 professionals with offices in Argentina, Chile, Mexico and USA.
97,2
% Customer Satisfaction
Our Name
From our beginnings, we have adopted as our name "Huenei" that is a Mapuche word which means "great friends"
Mission
Our mission is to provide our customers with services based on information technologies in order to collaborate in the achievement of their business goals.
Vision
We seek to be one of the most recognized Argentine companies in our industry. We aim to grow and build a bigger and more talented team every day with the goal of expanding our regional presence. Our priority is to add value to our services and build trusted relationships with customers and partners.
Integrity
We encourage sincere and open debate, seeking to establish relationships of trust based on ethical behavior, honesty, transparency, responsibility and respect.
Respect for the Individual
We value diversity and guarantee an inclusive workplace, where the individuality of the people is respected.
Passion and Enthusiasm
We are passionate about the work we do and enjoy the challenges that we confront daily giving our best.

Customer Orientation
We have the responsibility, the commitment and a strong vocation of service in all the situations related to our clients.
Efficiency
We seek to be efficient in all the activities that we carry out, both in the provision of our services and in the processes of support to the business areas.

Team Spirit
We believe that our capabilities are enhanced when we bring our best to a team, which in a coordinated and cooperative way, works towards a common goal.
Quality Management Policy
HUENEI IT SERVICES Argentine company founded in 1995 is a provider of regional IT services. Currently, it has more than 250 professionals with offices in Argentina, Chile, Mexico and the USA that provide services in five areas (SW Development, Mobility, SW Testing, Process & Management and IT Infrastructure) through our two business units: Professional Services and Managed Services.
Detect, analyze and evaluate the requirements and expectations of the interested parties, as well as the relevant internal and external issues to fulfill the strategic purpose of the organization.
Promote a climate of teamwork and a culture of quality management characterized by respect, harmony, professional development and training.
Implement continuous improvements in our processes and in our quality management system, which allow us to provide an excellent service, in order to strengthen both our presence in the markets and our team.
Honor the commitments assumed and the applicable requirements, generating trust, security and loyalty in the various stakeholders.
The directors and managers of HUENEI IT SERVICES are the main people in charge of the application of this policy in the company, committing themselves to providing the necessary resources so that employees know, share and watch over their compliance.
TUV Rheinland Argentina, a leading company in Quality Certification, verified that our quality system complies with the standards and issued, accordingly, the corresponding certificate number 01 10006 084657 (ISO) 9001. The same can be verified here.
Gustavo Commisso
Huenei's Founding Partner and Chief Executive Officer.
With more than 20 year experience in the IT market, Gustavo has worked, among other roles, as technology project leader for world-class companies in Argentina and Latin America, including Comsat, HSBC, Novartis, and DirecTV, to name but a few. In 1997, he graduated in IT Engineering from Universidad Tecnológica Nacional (National Technological University), and in 2002, he completed an MBA program at the same university. From late 2002 through early 2006, besides holding his function as Huenei's Manager, he served as Chairman of the Quality Commission of the Argentine Software & IT Services Chamber of Commerce (CESSI).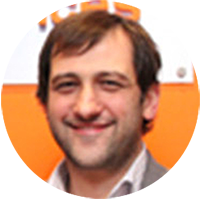 Jorge Attaguile
Huenei's Founding Partner and Chief Operations Officer.
Jorge's career in the IT sector spans more than 20 years over which he joined, led and coordinated teams working on technology projects from different locations for premium companies in Argentina, Mexico, the US, and England. In 1997 , he graduated in IT Engineering from the Universidad Tecnológica Nacional (National Technological University) and obtained his MBA degree from the same university in 2002. In 2004, he took a graduate course in "Object-Oriented Software Engineering," at Universidad Austral. In 2014 he joined the MDP (Management Development Program) in IAE Business School's. Using the latest international management theories and interacting with professionals from top Latin American companies, he has acquired a more comprehensive, multi-functional and strategic perspective to drive organizational change.
Why Contract Us?
Because we provide our customers with solutions to their needs, offering the best cost-benefit service in developing the software for their organization.
Quality Assured
Our aim is to provide our customers with quality service, contemplating all aspects involved in the presentation.
Customized Service
Customizing our services allows us to quickly and efficiently understand our customers' needs.
Customer Focused
At Huenei we adopt our customers' goals as our own, prioritizing the search for the best solutions to ensure their success.
Expertise
We have wide experience in providing IT services. Since 1995 we offer solutions to large-scale companies of international recognition.